As the weather begins to heat up, so are Bardot with the release of their follow-up album appropriately titled "Play It Like That". Showcasing their diverse vocal abilities, their latest album is a fusion of disco grooves, dance beats, funky rhythms and catchy hooks. Fast becoming Australia's biggest selling girl group, Bardot continue going from strength to strength, churning out the hits and proving that they are here to stay.
Belinda, Sophie and Tiffany dropped in for a chat with the GIRL team and in this light-hearted interview, shared their thoughts on the new album, their kissing techniques and what is instore for them next?
GIRL: Your new album is titled "Play It Like That". Why did you choose this title?
Belinda: The title is from one of the tracks on the album and it is just relevant really. Put our album on and play it like that...
GIRL: If you could record with another artist, who would you like to work with?
Belinda: I would love to work with J.K. from Jamiroquai.
Sophie: Michael Jackson...if you could hook that up for me that would be great! (laughs)
Tiffany: I would have to say Lionel Ritchie.
GIRL: R&B duo Kaylan contributed 2 songs to your second album, are you all good friends?
Tiffany: Yeah we are. We recorded those songs in four days. Kaylan are really professional guys and played on our tour last year as the support act.
GIRL: Your sound has matured somewhat from your first album. Is this a more accurate representation of what Bardot is all about?
Tiffany: I think so, on the second album we were given more time to make it and steered the direction of our music.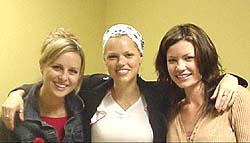 GIRL: From listening to your album, it sounds like you girls were all having a ball singing in the studio?
Sophie: Yeah we did have fun and we got to write four tracks so we're very happy about that.
GIRL: Having penned some tracks on the album, where did the inspiration come from for these songs?
Tiffany: Well first of all, Belinda and I went in together and worked with a guy called Michael D'Arcy. And if I remember correctly, we took in Anastacia's "I'm Outta Love" and wanted something along these lines - a funky, disco dance track. And lyrics wise, it turned out to be one of those girly group songs....
Belinda: A girls night out basically....
Tiffany: Yeah something you might put on when you're getting ready to go out - setting the mood. That is what the song has turned out to be like.
GIRL: What was it like to write with newcomer Michael D'Arcy on the track "Girls of the Night"?
Belinda: Great, it was a really good experience.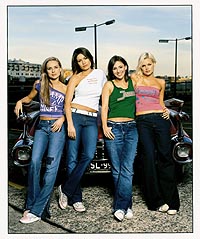 GIRL: Sophie, in your latest film clip "I Need Somebody", you pull a move that you have called the "motorbike riding dance". Do you think it is set to give the "bum dance" a run for its money?
Sophie: I hope so, I am going to enter it into a competition (laughs). No seriously, it's just a bit of a move but it is a new one and may take off, you never know.
GIRL: Belinda, apparently you can't get by without your soymilk and sushi. So tell us, do you mix these two together?
Belinda: No, definitely not!
GIRL: Are you a health fanatic?
Belinda: Yeah I am actually, but I'm not ridiculous about it. I exercise a lot and hardly eat any junk food except on the odd occasion.
GIRL: Sophie we have to ask, is your fave CD still Mariah Carey's "Christmas Carols"?
Sophie: It is at Christmas because it's not Christmas without Mariah Carey's Christmas carols. I love them but I have to say, the CD is looking a bit scratched these days (laughs)!
GIRL: Belinda, prior to joining Bardot you worked extensively overseas. What was your favourite place?
Belinda: Singapore would have to be my favourite place, I love going there.
GIRL: Now Tiffany, we spoke to you back in September where you told us that you consider Beyonce Knowles from Destiny's Child an inspiration. Musically, who inspires the rest of you girls?
Belinda: I would have to say Madonna as a performer and Whitney Houston as a vocalist.
Sophie: Kylie because she has lasted the distance and is doing well and I love the vocal style of Pink.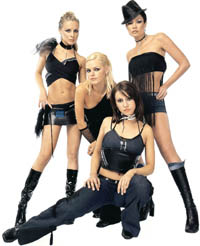 GIRL: Do you enjoy making music videos?
Tiffany: Yeah we do, they're great to make.
GIRL: Who comes up with the concepts for each video?
Belinda: We all do, we workshop ideas. We then get stylists in who scout for places to film, and then the rest is up to us. So it is a whole team effort.
GIRL: You will be performing at the upcoming Rumba Festivals held in Melbourne and Sydney. Are you excited about this?
Tiffany: Yes definitely but we're even more excited now because we will be performing on the main stage. We are really looking forward to that.
GIRL: And which star are you most looking forward to meeting?
(In unison) Craig David!
Sophie: And Shaggy and Nelly Furtado - actually all of them!
GIRL: Does the Popstar show, which launched your singing careers, seem like it was ages ago?
Tiffany: Yeah it does, we have been singing together for two years now.
GIRL: We heard you on the radio this morning where you commented on your crazy schedules. Just how crazy are they?
Belinda: It is crazy! (rolling her eyes) So if we crack up in fits of hysteria you know why!
GIRL: In between recording albums, are you constantly writing songs?
Tiffany: We will be I am sure.
Belinda: At the moment we don't have a spare brain cell for anything else, we are busy promoting our second album.
GIRL: Does it feel strange releasing this album without Katie Underwood?
Tiffany: No not at all, only because we'd started writing the album after she'd already left. If we had of done songs with her and then she'd left, then that would have been a different story for sure.
GIRL: Do you girls have a fave track off the album?
Tiffany: Yeah mine is Track #6 "Love Will Find A Way".
Sophie: My favourite is "It's Alright".
Belinda: And my favourite songs are "Girls of the Night" and "Play It Like That".
GIRL: Tiffany you're quoted as saying in recent press, "that although we harmonize and sing with each other, we're also able to be ourselves." Is this something that is important to the rest of the group as well?
Belinda: We haven't consciously done that but it is something that has just evolved. We are a group but we all have our own individual singing styles and voices.
GIRL: Besides Rumba, will you be touring anytime soon?
Tiffany: Hopefully in the New Year, once we rejuvenate our brain cells! (laughs) But this is definitely something we are hoping to do.
"Play It Like That" is released on November 12th.
"I Need Somebody" is out now.
- Annemarie Failla & Michelle Palmer

** CLICK HERE TO READ MORE ABOUT BARDOT **