In only a few short years, nineteen-year-old Rebecca Cartwright has become one of Australia's best-loved personalities. Bec as she prefers to be called, continues to work on the popular soap Home & Away, playing the straight-talking, no-nonsense Hayley Smith. But away from the cameras, this young starlet has been busy preparing for a career in the music industry. Her first release is the infectious and instantly likeable "All Seats Taken" which has already gone Gold in Australia.

In town recently to promote her new single, WE chatted with the enthusiastic and friendly star!GIRL: How are you enjoying life as a popstar so far?

Bec:
I'm loving it so far especially doing the film clip and doing all that sort of thing. I am actually hanging to get out there and perform it, which is what I'll be working on over the Christmas break.
GIRL: Did you have any pre-conceived ideas about what to expect?

Bec:
I honestly didn't know what to expect and how it was going to go so I just really had to wait and see. I found out it went Gold last week which is pretty exciting! I'm just really enjoying it and it's always exciting when you get to do a new song.
GIRL: Why did you choose to release "All Seats Taken" as your first single?

Bec:
For the time of year when my song was coming out it was very summery and catchy. I loved it when I heard it; it is such a groovy little tune. And it is also good for my younger fan base, which I have with Home & Away and they love it! So that's all really cool.
GIRL: Will there be other singles to follow?

Bec:
Yeah for sure. The second single will be out early February next year, followed by a third one and then an album.
GIRL: Will it be in the same style as "All Seats Taken"?

Bec:
Yeah although slightly getting a bit older and a little cooler.
GIRL: Have you completed an album?

Bec:
No I am still working on it and it will be finished over the Christmas break.
GIRL: Will you be writing on the album?

Bec:
I have written some songs but I haven't recorded any as yet. It would nice to see something I've written on there but at this stage I don't know.
GIRL: Why did you get into acting before you explored a singing career?

Bec:
My mum got me into an acting agency because I was a hyperactive little kid who talked a lot! (laughs) I did both performance and acting side by side as I grew up. I was in a few commercials along the way and singing and dancing right up until I got into Home & Away when I was fifteen.
GIRL: Do you plan to quit Home & Away in pursuit of your singing career?

Bec:
No I'll still be there for quite awhile. I'm just going to juggle the two and survive on not much sleep!
GIRL: Do you think you'll be able to successfully juggle both your acting and singing commitments?

Bec:
At this stage everything is going OK. With Home & Away nothing has changed there, I still go by the normal schedule. Then at night and on the weekends I am recording songs.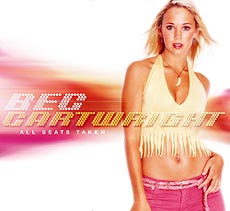 GIRL: Did you enjoy shooting the video clip for "All Seats Taken"?

Bec:
That has been the best bit so far, that's why I want to get the next single happening so I can do the second film clip.
GIRL: Were the dancers in your first film clip friends of yours?

Bec:
Well no, I actually met them there, they all auditioned for the dancing parts, but I formed really good friendships with them all. So hopefully they're going to be my dancers for the performances.
GIRL: Has "All Seats Taken" been released in the UK?

Bec:
No not yet, it will be though. We have a really good fan base over there with Home & Away. I can't really be over there promoting until I get a couple of weeks off Home & Away.
GIRL: Why did you choose to be known as Bec Cartwright for your singing career?

Bec:
I didn't actually choose to change it, it's just more casual because Rebecca is a bit formal and it's like I'm in trouble! (laughs) I am just more of a Bec because I'm an easy-going kind of person. My friends and family call me Bec, I don't ever really get called Rebecca.
GIRL: Do you still enjoy working on Home & Away?

Bec:
Yeah I am really happy there, I work with a good cast and there are some great storylines coming up. I'm just really comfortable there now because I have been there for so long, I feel like I really know myself and my way around there.
GIRL: What are your fellow cast mates like to work with?

Bec:
Everyone is really cool. You only work with the same sort of people every week, the people that your character is involved with. But my favourite cast member would have to be Ada Nicodemou who plays Leah. She's just a lovely person; she's been around for a little bit longer so she's got good advice and what you see is what you get. She's just a little chatterbox like me so we get on well! (laughs)
GIRL: What do the Home & Away cast think of your first single?

Bec:
They're all really pleased for me!
GIRL: Did they hear a sneak preview of the song or did they have to wait until the rest of Australia heard it?

Bec:
I only actually took it into work a day before it was going to be played on radio. I put it on in the Green Room and everyone was playing it all day. I could hear it when I'd walk out of the studio and they were all dancing around having fun and being a bit silly.
GIRL: Were they aware that you had been recording?

Bec:
They knew I was working on something but they had no idea, they'd never heard anything.
GIRL: What do you think of the constant comparisons between yourself and Holly Valance and Delta Goodrem?

Bec:
Holly is already out there and is well established with her music and she's going really well. I actually have her album, I haven't met Holly personally but I love what she does and she's just kinda cool. And Delta is actually a great mate of mine, we grew up together so there's nothing there and if anything, she deserves to go really well.
GIRL: Musically, what do you like listening to?

Bec:
I love funky house and I do love all the Top 40 stuff as well.
GIRL: Are you anything like your character Hayley?

Bec:
Personality-wise not really, because she's quite moody and I'm pretty easy-going. We both like the beach, we look the same, we're both big on honesty and we share the same boyfriend, but that's about it!
GIRL: What does your boyfriend [Beau Brady] think of your first single and singing career?

Bec:
He's really pleased for me and he knows how much I love it and how much I'd missed it. Music was such a huge part of my life growing up, I used to dance every night of the week and all day Saturday. It was a huge shock when it all drizzled out with Home & Away being so busy.
GIRL: In Big Hit magazine you were voted in the Number 2 position for Best Female Star - how did this feel?

Bec:
It is really weird, you can't believe in it too much. I mean people are obviously saying what they think and it is flattering to think that they like you so it is nice, but you can't take it too seriously.
GIRL: What message would you like to say to your fans?

Bec:
Just to thank them for supporting me for over four years because you know, I guess after some time they may get sick of you. But I am very lucky that they've stuck by me and are still excited for my new little adventure that I'm taking here. And if ever I'm doing an appearance in their area to come and say hi because I really like getting out there and meeting people.
GIRL'S 60 SECOND QUIZ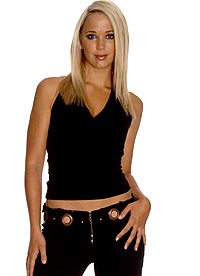 Full Name: Rebecca June CartwrightNickname(s):
Bec, Beadie & Rebecca the Wrecker (when I was younger)
Star Sign:
Cancer
Fave Food:
Cheese Pizza & Chocolate
Fave Film:
American Beauty, American Pie, Liar Liar & Legally Blonde
Fave Actor:
Robin Williams, Reese Witherspoon & Julia Roberts
Fave Animal:
My dog, water animals, dolphins and monkeys
Describe Yourself In 3 Words:
Fun, Hyper & Kind
Best Feature:
My Nose
Worst Feature:
My Feet
Person You Would Most Like To Meet:
Robin Williams
Hobbies/Interests:
Dancing, Singing, Ice-Skating, Going to the beach, Knitting
First Job:
"My Little Pony" commercial for America
A Talent You Wish You Had:
To be an amazing gymnast
What Can You Never Leave Home Without:
My wallet
If you were a cartoon character, which one would you be?
Pebbles from the Flintstones
If you were told you had a minute to live, what would you do?
Hug my boyfriend & eat a piece of chocolate at the same time.
What is the first thing you think of when you wake up in the morning?
What day is it?
- Annemarie Failla