Touted as the next Britney, Christina and the rest of the blonde girl brigade - don't be in a hurry to brush her off as another manufactured product. ELLIE CAMPBELL is as real, talented and down-to-earth as they come! With a persona as uniquely different as the sound of her album, this girl is destined for big things and is far from comparable. A hot track - "Don't Want You Back" is the first single to be lifted from her self-titled debut album and is only a taste of what Ellie has to offer. Her original sounding vocals, strong voice and scrumptious blonde locks-blue-eyes looks have launched her from small-town dreamer to a Pop-Diva just waiting in the wings.
GIRL'S 60 SECOND QUIZ

Full Name: TINA CAMPBELL
Nickname(s): Turner, Campbell's Meatballs
Star Sign: Pisces

Fave Food: Anything spicy
Fave Film: The Sound of Music
Fave Band(s): Destiny's Child
Describe yourself in 3 words: Happy, Ambitious, Romantic
Best Feature: Mouth - it's the tool of my trade!
Worst Feature: My toes - they look like long fingers!
Height: 5'3"
Your Ideal Man: Craig David actually - he's very dishy! Just someone who is happy, fun and can sing to me whether they're good or bad.
Hobbies/Interests: Clubbing with all my friends, shopping, reading, massages.
First Job: A cleaner.
A talent you wish you had: To be really good at sport.
The best advice given to you: Always be yourself and remember it's better to try and fail then never try at all.
What song best describes you? I Will Survive!GIRL: Well we have to ask Ellie, what was it exactly that made you decide to pursue a singing career?
Ellie: It was music basically, in every shape and form. From the age of three I sang constantly and I just wanted to be a singer. I never, ever thought it would happen to me but how it all happened is quite amazing.
GIRL: Have you had any formal singing training?
Ellie: I've never been to stage school or had a singing lesson in my life. It was just a dream I had.
GIRL: Now on New Year's Eve in 1997 you made a promise to yourself that by the same time the following year, you "were going to be somebody". What active steps did you take to make this statement come true?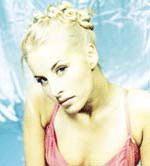 Ellie: My sister sent a photo into a national newspaper in England. I won a modelling competition and it was from the modelling exposure that I got to meet my manager. He then introduced me to Pete Waterman where I sang for him. He took me into Jive Records and nine days later I signed a record deal. I took the chance at eighteen years of age, of leaving my job, my life, family, friends and my home to pursue my dream. And thankfully, it all worked out. I am living proof that dreams do come true. Now here I am doing a two-month promotional tour, my album is going really great and I'm travelling the world. I'm also doing gigs and people everywhere know the words to my songs.
GIRL: Wow, that must be a real buzz for you that people know the words to your songs?
Ellie: That is a massive buzz it gives me such excitement when I'm on stage.
GIRL: Now as you mentioned, Pete Waterman (of Kylie & Steps fame) offered you a record deal after only hearing you sing three lines of a song. What went through your mind at the time of the announcement that you had landed yourself a record deal?
Ellie: I just couldn't believe it! I was just thinking, "Oh my God, I've just landed a record deal! Now what am I going to call myself?" I was really shocked but at the same time, I believed it was my destiny and I'm now doing it and I'm living it.
GIRL: Has time passed by quickly since then?
Ellie: Yeah it's gone really fast actually, everything has been so exciting. Recording the album, I had such a brilliant time. I recorded it partly in London, New York and in Canada. I just feel really blessed to be doing something I love to do - not many people can say that.
GIRL: You come from a family of ten kids. Are they a very musical family?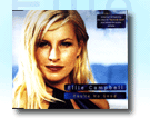 Ellie: Yes very. Growing up, the radio was constantly on. My mum is one of twenty-one children and all of her brothers and sisters either sing or play musical instruments. As far as my family goes, I can remember as a child I used to line all my sisters and brothers up and we'd sing songs from "The Sound of Music" and I thought I was 'Maria' from the Von Trapp family. I used to sing all the time. My family is very supportive of what I do and I think for them it's just an extension from seeing me in the living room with a hairbrush to now seeing me on the television.
GIRL: You seem to have inherited the title of "Britain's answer to Britney Spears". Do you mind the constant comparisons to Britney Spears and Christina Aguilera?
Ellie: They are both very successful and brilliant in what they do, but okay we all have blonde hair and blue eyes but at the end of the day, all you have to do is listen to my album and look closer to realize we are different. For one, I'm British and they're American; there are a lot of solo artists around at the moment who have an American sound whereas mine is definably British. I think that if you're good enough, then there's enough room for everyone in this business. I think it's great if people can have a Britney Spears' album, a Christina Aguilera album and an Ellie Campbell album - we're all different. And I have both their albums, I think they're great at what they do, but I am different.
GIRL: Have you met either of the girls?
Ellie: No I haven't.
GIRL: Ellie, who would you love to work with in the near future?
Ellie: There are lots of inspiring people I'd love to work with. Lionel Ritchie is someone who I have always really admired and I grew up listening to his music. At the moment there is a guy called Craig David who is very, very hot in England and he's going to be huge all over the world, I'm sure of it. He's very talented - I like his style and his sound and I'd love to work with him one day. Enrique Inglesias is also someone I'd love to work with because I love the Latin sound and the sexiness of it.
GIRL: Now J from the group Five appears on the track "The Things You Do" off your self-titled album? How did this collaboration come about?
Ellie: Well I met him in the shopping mall when I had just signed my record deal and we got talking. I told him that I thought his music was great and perhaps one day I'll see him on the "Top of the Pops" in England. And then it turns out that he was working with Pete Waterman's guys and so was I. They came up with a song called "The Things You Do" and he heard it and the guys suggested that he be a part of it.
GIRL: How much artistic control do you have over the direction of your music career?
Ellie: I've been very fortunate in the fact that I have a great relationship with my record company. I wear all my own clothes - obviously they give me lots of money and I go shopping! This is my style - what I wear is me basically. As far as the music goes, I didn't write any of the songs on the album myself but I met the writers and told them about all my experiences. So in actual fact, the songs were written for me. So everything on my album is the truth. So I've had a lot of control.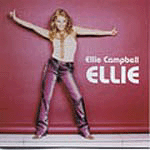 GIRL: Your current single in Australia at the moment is the infectious groove "Don't Want You Back". So is it fair to assume that this song is reminiscent of a particular experience you've had in your life?
Ellie: Yes it is and I'm sure a lot of people have been through the same situation. The song sounds negative but in fact it's a very positive song. It's about being in a relationship, it ends and you actually come out of it stronger realizing that you don't need or want them anymore. Because it is true, that is why I sing it with so much conviction because it's something that is close to my heart.
GIRL: What has been your most memorable performance to date?
Ellie: Performing in front of 65,000 at a concert called Leeds Park in the Park. It was so fantastic and for me, the bigger the crowd the better. I absolutely love an audience! The nicest thing was that I had my family there; it was such a brilliant day.
GIRL: You will be visiting Australia shortly, will it be your first visit and how long is your stay?
Ellie: Yes it is and I don't think it will be my last. I'm in Australia for two weeks and plan to have a great time!
- Annemarie Failla & Michelle Palmer