Jean Brassard The Fault In Our Stars Interview
Cast: Shailene Woodley, Ansel Elgort, Willem Dafoe
Director: Josh Boone
Genre: Drama
Rated: M
Running Time: 126 minutes

Synopsis: Hazel (Shailene Woodley), a teen who has Stage 4 Thyroid cancer, is forced by her parents to attend a cancer support group. Gus (Ansel Elgort), a basketball player who lost his right leg to osteosarcoma but is now in remission, meets her at the group.

Although the teens are attracted to her each and start up a friendship, Hazel is reluctant at first, not wanting to cause Gus pain, because she knows she will eventually die.

Gus is persistent and talks Hazel into coming with him to meet Peter van Houten, the author of her favorite book, but the meeting leads to surprising revelations.

Based on the young adult novel by John Green.

The Fault in Our Stars
Release Date: June 5th, 2014
Interview with Jean Brassard
Jean Brassard currently appears alongside Shailene Woodley and Ansel Elgort in Josh Boone's film adaption of the best-selling novel The Fault In Our Stars.

Brassard, who also played Levay on TVs Believe and Admiral D'Estaing on the acclaimed mini-series John Adams, is an actor, musician and in-demand voice over artist.

In addition to The Fault In Our Stars, Brassard has appeared in such movies as Stake Land, The Pill and The Extra Man.


Question: Why did you decide to audition for The Fault In Our Stars?

Jean Brassard: Because it was the best part ever written for a waiter and I loved the story.


Question: What have you enjoyed most playing the role of the waiter in the film?

Jean Brassard: Being my character as he is making absolutely sure that my two young guests had the best dinner in their life while keeping a vigilant eye on the rest of the restaurant. Their coming to dinner was a gift for him. And boy did these two lovely young actors make my life easy. And there was such camaraderie on the set with everyone and you could tell everyone in every department cared about this film.


Question: How did this role differ to your other movie roles?

Jean Brassard: Quite a bit actually. I've played Rachel Boston's father in The Pill, Emily Skinner's boyfriend in Ten Stories Tall, a zombie in Stake Land, a crazy Frenchman with a crazy French girlfriend played by Sylvianne Chebance in the webseries Horrible People and other varied parts but never such an attentive waiter who gets to deliver not only delicious food and champagne but the best lines for a waiter that I have ever read.


Question: Was this role difficult, in any way?

Jean Brassard: Not in any way at all as long as I paid attention to what was going on with the youngsters at my table who were having a very special moment together.


Question: How do you feel about your role being placed in one of the happier scenes of the film?

Jean Brassard: Happy! I didn't realise that this part would get so much attention. But that says a lot about movies too. You can be on screen for five seconds and have an effect on an audience. That is great power. And then the moment when I say the line 'we've bottled all the stars for you this evening, my young friends," keeps appearing everywhere. It's very sweet. I love that I'm the scene where so much of the movie culminates and I think it's actually happiest scene in the movie. Both of them are just glowing in the other's love.


Question: Can you talk us through the reference to champagne as being stars?

Jean Brassard: Glad you ask. Yes, well, the first thing my 'waiter to the stars" tells his customers as he is pouring champagne is what Dom Perignon said after inventing this delicious drink. 'Come quickly, he said, I'm tasting the stars." Stars sparkle in the sky and champagne bubbles sparkle in your palate. It's like a little fireworks inside your mouth. And both the stars and champagne are also associated with romance, and of course Dom Perignon captured that right away! And 'stars" being in the film's title emphasizes the tragic brevity of this young couples' taste for love as they drink this divine liquor for the first time together. Shakespeare called them Romeo and Juliette. Today they are Augustus and Hazel.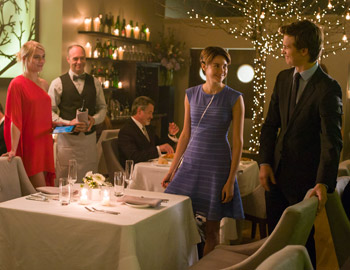 Question: Why do you think the story of Hazel and Gus has attracted so many people, worldwide?

Jean Brassard: Because it deals with frailty, our 'fault" being our humanness as I take it, in a very direct way and a poetical one as well which is the way John Green wrote it. It was expected that young folks would take to it because they are I think in general more connected to their feelings and it's a time where you're not afraid of asking the big questions about life and death. But it says a lot that a lot more people enjoy the movie and go through boxes of tissues watching it. There is very little cinema that take on romance and death in a humanistic way, without all kinds of visual effects and such. And it's clear that people are satisfying a hunger for a more meaningful experience.


Question: What was it like to work with Shailene Woodley?

Jean Brassard: A treat. This young woman is on such a trajectory now and she seems to handle it all so well. She was so at ease on set and welcoming to me and totally taking me in. Same with Ansel. They could have easily dismissed me as 'just the waiter" but they took me in a full partner in the scene and it was a wonderful time on the set.


Question: Did you read the novel, The Fault In Our Stars prior to working on the film?

Jean Brassard: I was not aware of the book at first. I came to the story through the screenplay which was a nice way to be introduced to John Green's work as well.


Question: How much did John Green work on the film with Josh Boone?

Jean Brassard: John Green to my knowledge did not actually work on the film. He was very present and wanted to immerse himself in the process and the sheer delight at having his book turned into a film. That's my understanding of it.


Question: What's next for you?

Jean Brassard: I'm also a singer, so I'm currently writing songs and hopefully I'll be ready for some shows in New York in the fall and also a CD. Otherwise, some audiobooks are in the wings and a couple of acting projects but I can't talk about them at the moment. But I'm on Facebook and Twitter and easy to follow!


Interview by Brooke Hunter