Liam Hemsworth The Last Song Interview
Cast
: Miley Cyrus, Greg Kinnear, Kelly Preston, Liam Hemsworth
Director
: Julie Anne Robertson
Genre
: Romance, Drama
Rated
: PG
Running Time
: 107 Minutes
Release Date
: 1st of April 2010
Synopsis
: Based on best-selling novelist Nicholas Sparks' ('A Walk to Remember,' 'The Notebook') latest novel, The Last Song is set in a small Southern beach town where an estranged father (Greg Kinnear) gets a chance to spend the summer with his reluctant teenage daughter (Miley Cyrus), who'd rather be home in New York.
He tries to reconnect with her through the only thing they have in common-music-in a story of family, friendship, secrets and salvation, along with first loves and second chances. The film is directed by Julie Anne Robinson from a screenplay by Sparks & Jeff Van Wie.
Interview with Liam Hemsworth
Liam Hemsworth, will be introduced to international audiences this coming April in the Disney film "The Last Song." He portrays 'Will Blakelee,' and stars opposite Miley Cyrus, Greg Kinnear and Kelly Preston. "The Last Song" is based on best-selling author Nicholas Sparks' novel, who also co-wrote the screenplay.
He will also star opposite Melissa George in the indie thriller "Triangle." In Television, Hemsworth has played several roles on a Australian series, including 'Josh Taylor,' on the popular and longest running drama series "Neighbours."
Born and raised in Melbourne, Australia, he and his family relocated to Phillip Island, off the coast of Melbourne, when Liam was 11 years old.
Hemsworth's older brothers Chris and Luke are also actors. In 2009, Liam moved to Los Angeles, where he currently resides.
What was the audition process for The Last Song like?
Liam Hemsworth
: I had been in LA about five weeks and I read the script for The Last Song, I thought it was really good, it had really good messages of love, real life emotion and stories. I went in and auditioned with the director and the producer and a week later I met and read with Miley and it turned out we had really good chemistry. From there we shot the film.
How did you prepare for your role in The Last Song?
Liam Hemsworth
: I had to learn to play Volleyball.
How was that?
Liam Hemsworth
: It was really tough, I had told the producers that I could play and I couldn't (laughing). It turned out to be pretty hard and I had to spend a lot of hours in the sand trying to get good.
Was it difficult changing your accent for the film?
Liam Hemsworth
: It wasn't too difficult, I did a lot of work and I worked with an accent coach everyday to make sure my Australian accent wasn't coming through. I had done a film a couple of months before I went to America, here in Australia, it was an American accent, so it wasn't the first time I'd done it. I definitely worked very hard.
Had you read the Nicholas Sparks novel, before recording The Last Song?
Liam Hemsworth
: I hadn't, when we were shooting the film the book wasn't actually finished. The script was finished before the book. I didn't get to read it.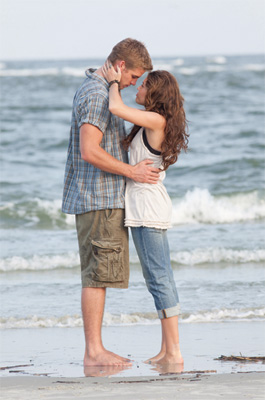 Is it true that Nicholas Sparks wrote the story for Miley Cyrus to play the role of Ronnie?
Liam Hemsworth
: It was, he met her a while before the script was written and he came to her with the idea and it adapted around her.
How long did it take to film The Last Song?
Liam Hemsworth
: Three months, we shot down in Georgia for three months.
How was it being by the beach again?
Liam Hemsworth
: It was good! There wasn't much to complain about down there, we were on the beach everyday and everyday was hot and sunny.
Was working with Miley Cyrus anything like you expected?
Liam Hemsworth
: I didn't really have any preconceived ideas about what it was going to be like. It turned out to be great; we really enjoy working with each other and we had a lot of fun.
Did you find there was an instant chemistry and did that help you in the overall performance?
Liam Hemsworth
: Yeah, absolutely! I think chemistry on screen whether you like someone, or not, it is kind of there or it isn't. We had great chemistry and we also enjoyed working together. We really enjoy being together there, we spent everyday together in Georgia, and we were pretty much each others only friends down there. It is kind of hard, not to become close!
What was a typical day like on set?
Liam Hemsworth
: Hot and sticky and sandy- we were out in the sun. It was good fun!
How is working on a film set different to a movie such as The Last Song?
Liam Hemsworth
: The good thing about film, and what I love, is that no-one there from the cast or crew has been there any longer than anyone else, so everyone there is excited to be there and to be starting a new project. It is a good atmosphere.
Did you get along with other cast members, besides Miley Cryus?
Liam Hemsworth
: Yeah! I had a few scenes with Greg Kinnear; he's an amazing actor and really fun to work with. Also Hallock who plays Scott in the film, I loved shooting with him, he is one of the funniest people I've ever met, he was really fun to work with.
Was it fun shooting the fight scene?
Liam Hemsworth
: It was good, physical stuff is always really fun! I really enjoy that stuff, you have to pretend to have a fight, which is good fun (laughing)!
Was it hard moving to the United States, from Australia, to work on the film?
Liam Hemsworth
: It was, yes. It is so far away from my Mum and Dad and I didn't know anyone. I had my brother there and the good thing was that he had some friends he had established so I had a few friends around. It was a big, big move for me.
You recently went home to Phillip Island with Miley Cyrus, how do you deal with the constant paparazzi, in Australia and around the world?
Liam Hemsworth
: It was pretty weird, I was shocked! I never thought in a million years that they'd come down to Phillip Island. It was weird to have photographers out the front of my house, in Phillip Island.
It is a hard thing to deal with it, you try and have a private life and go about your day but there are people photographing you all day, it is awkward.
You are now an international star, how are you enjoying the newfound international fame?
Liam Hemsworth
: It is pretty crazy. It is all really new to me. Last week has been the most crazy, I have been driving around Hollywood and I'm seeing billboards of my face for That Last Song. To be in Hollywood and be driving around and seeing posters of my face is pretty surreal.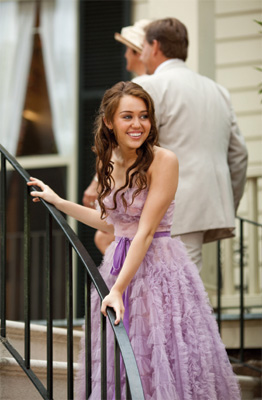 I guess that is different to Phillip Island?
Liam Hemsworth
: Very different, it is weird. I have only been there ten months and to be seeing my face around that town is weird.
There are a number of other Australian actors taking big parts in international films, like Chris Egan and Sam Worthington, do you know these guys?
Liam Hemsworth
: I know Chris Egan; he is a friend of Chris' (my brother). It is great to see Australian's doing well. It is always really, really good.
What's next for you, are you working on any movies?
Liam Hemsworth
: I am in negotiations at the moment for a film called Arabian Nights which is a bit epic, action, swords and magic film. It will be good fun.
What have you been doing whilst in Australia?
Liam Hemsworth
: Catching up with my friends and my family it's been great.
How did the Australian screening go in Sydney?
Liam Hemsworth
: It was good, it was really exciting, I was excited for all my friends and family to see it. The whole experience was really good.
When you're not filming what's a typical day like in the states?
Liam Hemsworth
: I usually try and do some exercise and keep moving, if I don't have meetings; I also go for surf or a run. I just hang out and eat sushi, I eat sushi everyday in LA, they have really good sushi restaurants.
What is the main difference between home, Phillip Island and LA?
Liam Hemsworth
: There is no traffic lights on Phillip Island!
Do you miss home?
Liam Hemsworth
: I do, I miss hanging out with my family and friends down at Phillip Island and how simple life is there, it's not busy, again, there are no traffic lights! It is a different world.
Do you miss anything in particular, food wise, from Australia?
Liam Hemsworth
: Meat Pies and Vegemite. They don't really have meat pies in the states; they have hot chicken pies, not meat pies. Vegemite, definitely, I had four bits of Vegemite toast this morning!
Is there anything else you'd like to say about The Last Song?
Liam Hemsworth
: Go see it (laughing) it's a good film! I hope people enjoy it.
Interview by Brooke Hunter
Liam Hemsworth The Last Song Interview - www.girl.com.au/liam-hemsworth-the-last-song-interview.htm
The Last Song Review - www.girl.com.au/the-last-song-review.htm
Win Tickets to The Last Song - www.girl.com.au/competition-the-last-song-movie-tickets.htm