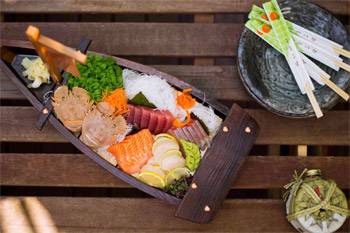 Manly Chows Down at Daniel San

Manly is getting ready to rock with Fraser Short's new Japanese rock -n' roll bar, Daniel San opening October 4. Executive chef Benjamin Orpwood, formerly of Surry Hills' Toko, will bring his culinary flair to the beachside chow down bar, homage to -The Karate Kid', with an extra kick.

Orpwood's Japanese menu will match Daniel San's cool -n' casual rock -n' roll-meets-the-beach vibe. The 350-seater venue, set underneath the Novotel Sydney Manly Pacific Hotel on the beachfront with the best views of Manly will see Orpwood bring fun Japanese street food - a brand new concept to hit the area.

Sip sake under the bright neon glow of Daniel San's Neon District, rock the hottest air guitar to tunes from INXS and Queen, or find yourself dancing to Steve Aoki and Flume, all while grazing on Japanese bites including crunchy tuna and salmon tar-tacos, the freshest sashimi; -rock & roll's' sushi of tuna belly, truffle and yuzu; or delicious steamed buns with soft shell crab and kimchi mayo.

The true star of the Daniel San show is the Robata grill. Like a culinary Shinto shrine, the caravan beach shack-style grill will pump out juicy roasting Japanese skewers; from Shiso rolled pork belly and chicken skin with ponzu; to quail eggs and prawn with yuzu koshu. Oishii!

There are no rules when dining and drinking at Daniel San. Whether it's dropping in for a quick bite or settling in for a long lunch – that turns into dinner, drinks, and a spot of pinball - everyone's a rock star at Daniel San.

While surfing the menu, Daniel San's Sake Bar will serve up a selection of premium Japanese sakes and beers; along with cocktails, wines and spirits. Imported from Japan, the Japanese beer slushy machine will offer the much-loved childhood treat with a grown-up slant. A selected part of the menu will also be available for takeaway from November, for those who are after their Japanese food fix on the sand or sofa.

Daniel San owner Fraser Short says: 'We wanted to capture the fun and slightly quirky elements of Japanese culture infused with a rock -n' roll vibe, whilst creating an offering that really capitalises on this amazing space's beachside location."

'I think this is exactly what Manly needs right now. Daniel San fits perfectly with the Northern Beaches' lifestyle - relaxed, healthy and fun. A casual fun chow-down style eatery where people can hang out, straight from the beach."

Daniel San head chef Benjamin Orpwood says: 'I wanted to create a really casual menu that anyone can easily navigate. There's a focus on fresh, clean food that's unique and fun. The Robata Grill will push out some delicious big hitters like the wagyu beef and king salmon teriyaki, but also a huge rotation selection of skewers."

'The first head chef I ever had at a Japanese restaurant told me that the best way to get people to fall in love with Japanese food is to be authentic but not traditional and I think that's what I've done with Daniel San."

Daniel San's rock -n' roll bar eatery space will include an outdoor beachside seating area, an exclusive private dining room area with beachfront views for up to 25 people on the venue's mid-level and an indoor/outdoor rooftop Dojo which can hold up to 200 people with spectacular views of Manly Beach, catering for functions and events.

Daniel San is located at 55 North Steyne Manly, Sydney 2095. Contact Daniel San on (02) 9977 6963 or visit www.danielsan.com.au.