James Marsden and Michelle Monaghan The Best Of Me
Cast: James Marsden, Michelle Monaghan, Liana Liberato, Luke Bracey
Director: Michael Hoffman
Genre: Drama, Romance
Rated: M
Running Time: 118 minutes

Synopsis: Based on the bestselling novel by acclaimed author Nicholas Sparks, The Best of Me tells the story of Dawson and Amanda, two former high school sweethearts who find themselves reunited after 20 years apart, when they return to their small town for the funeral of their beloved friend. Their bittersweet reunion reignites the love they've never forgotten, but soon they discover the forces that drove them apart twenty years ago live on, posing even more serious threats today. Spanning decades, this epic love story captures the enduring power of our first true love, and the wrenching choices we face when confronted with elusive second chances.

The Best Of Me
Release Date: 30th of October, 2014



About Production
'You are my dearest friend, my deepest love.
You are the very best of me."
- Dawson Cole

You never forget your first true love.

No matter who you are, or where you come from, or where you've been since, it is one of the simple truths we all have in common.

Time can change people, paths may diverge, and things go left unsaid, but when a connection is deep you never really forget the intensity of your true love. There's always the thought of 'What if?" What if we were given a second chance?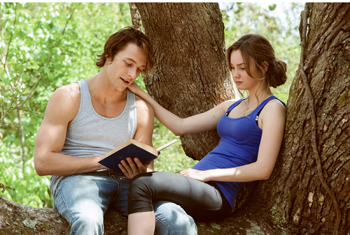 From a distance, Amanda Collier seems to have the perfect life: a beautiful home, a loving and well-mannered teenage son, and a successful husband. In reality, it is a well-appointed façade that Amanda has grown accustomed to; numb to any other possibility until her past finds its way into her present. Circumstances reunite her with the love of her life, Dawson Cole, the troubled kid with a big heart that she lost so many years ago. Or rather, Dawson, let her go, with the noblest intentions and has been longing for her ever since. When a second chance at love presents itself, they see the opportunity to rekindle the relationship they once clasped onto. But time was never their friend and the emotional stakes could not be higher.

The Best of Me marks the fifth time producer Denise Di Novi has collaborated with bestselling author, Nicholas Sparks to bring one of his beloved books to the big screen including: Message in a Bottle, The Lucky One, Nights in Rodanthe, and A Walk to Remember. The film delves deeper into the themes of second chances and lost loves than any of Nicholas Sparks's previous works; topics both Di Novi and Sparks were interested in before the novel was written.

'I had noticed in my own life and in the media how often people were reconnecting with their first loves, either from high school or college, on Facebook or via the internet," says Producer Denise Di Novi. 'So I knew that there was something in the Zeitgeist about it and actually Nicholas Sparks and I had even spoken about it, even before he had written the book. So I knew that it was a cultural phenomenon and thanks to the web, it was a lot easier for people to reconnect. Personally I believe that first love is a formative kind of imprinting, an intensity that everyone experiences and it is incomparable to later love affairs. And then, as in Nicholas Sparkss book and our movie, to see if it is possible after 20 years to reconnect to those same intense feelings was really exciting to explore. Also that idea provided an opportunity to have two sets of great actors, teenage actors and adult actors, and two love stories," Denise Di Novi explains.

Producer Alison Greenspan adds that the 'what if" nature of the material appealed to her. 'When we read the book –we really thought it struck a chord. There's a high percentage of second marriages, that happen because men and women reconnect with someone from their past," says Alison Greenspan. 'Divorced people, going online, looking up their past loves, seeing what's up with them. I think it's something you never really forget, you always wonder, what if? We like to fantasize that what if we were given a second chance or a different time and place or circumstances had lined up, would it have worked out? And this movie answers that, in a very touching, poignant, Nicholas Sparksian way. I think it is a universal wish for people or at least something that they wonder about," Alison Greenspan notes.

It also was a topic with personal significance for Nicholas Sparks as he entered his 40s. 'I think the story came from that specific period in my life – I always say the 40s are one of the hardest decades," says Nicholas Sparks. 'When you are in your 20s or 30s, you believe all your dreams can come true. When you are in your 50s, 60s and 70s, maybe not so much but possibly you've accepted that fact. So in your 40s, it's a time when you have this moment; you wonder, is this my life, have I made the right decisions and of course -The Best of Me' sprouted from that."

When the time came to take the story from book to screen, Denise Di Novi, Alison Greenspan and Nicholas Sparks had only one director in mind: Michael Hoffman.

'I have known Michael Hoffman for 20 years and been a fan of his since his very first film," says Denise Di Novi. 'I have tried to work with him many times over the years and even developed a script with him. He works at a level of depth emotionally that these movies really need. He's not afraid of sentiment, he's not afraid of drama and he's super hands on with the actors. He does a lot of rehearsal. He digs deep into the characters, all the story points and I was really excited to see him lend that to this project. I was so impressed with his work on The Last Station and I really wanted him to do this film and I wasn't disappointed, he crafted an incredibly powerful, compelling love story," Denise Di Novi says.

Alison Greenspan adds that Michael Hoffman has an easy confidence that is reflected in his receptive nature. 'He's very collaborative, he's very secure in his abilities and so he's open. He wants input, he wants to know what you think and he's confident enough to take notes from others, he lets a producer weigh in – as well as the actors and the crew. He's great," Alison Greenspan explains.

The notion of true love posed by the Dawson/Amanda relationship and specifically the ONE true love intrigued Michael Hoffman.

The question: 'Was that first person you fell in love with really THE person you should have been with?", as seen through Dawson and Amanda from the time they meet as teenagers and then twenty years later was interesting to explore. I think we all do ask ourselves that question at one point in our lives," Michael Hoffman says.

He adds that because Dawson and Amanda come from such vastly different families, in terms of class and culture and economic means, it provided a fascinating backdrop against which to play out their love story and certainly heightened the stakes considerably.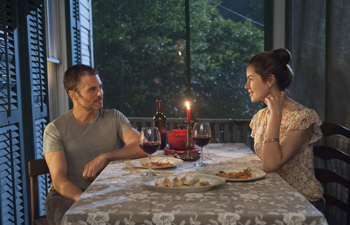 'I saw the two families as opposing kingdoms. The Coles, Dawson's clan, represent a dark little den of iniquity whereas Amanda's people, the Colliers and their plantation house, are all about wealth and tradition and respectability," says Denise Di Novi.

'The big challenge of this movie was that it was really two movies. It was a teenage love story and it was an adult love story set in present day. So it was really like shooting two films. It was really quite difficult to do it in the time that we had but like most things in life that was also its greatest joy. To see the young actors' story evolve into an adult story was really fascinating and to see the adult actors process and internalize what the younger actors had done in the first half of the film because we shot it in chunks was really fun to see and watch that," Denise Di Novi says.

Michelle Monaghan was the first actor cast as the older version of Amanda, whose life has taken some sad and treacherous turns since her carefree years as a teenager.

'We just love Michelle Monaghan and thought she was just so radiant when we met her. We knew she would bring Amanda to life in a way that was strong and capable and yet not dour or chilly. She just has that sunny energy that we thought would balance the sad undertones of a love lost and a life that was emotionally challenging," Alison Greenspan says.

Denise Di Novi adds that Michelle Monaghan completely captures the persona of the ideal Nicholas Sparks heroine. 'I think she is that type of everywoman that ladies like and men feel they would marry. She's beautiful but so natural and down to earth, she's a real person and that's really what you need for Nicholas Sparks movies. They are about real people in these dramatic situations so the actors have to be relatable," Denise Di Novi explains.

For Michelle Monaghan, it was the story's universal qualities that almost everyone can connect with that drew her to the project.

'I think one of the most beautiful and relatable themes of the movie is the question of the road not taken. I think we always sort of ask ourselves as adults when we look back at our past, if I would have taken that path, what in my life would be different? Especially the idea of being given the opportunity to have a second chance at a missed opportunity – what would you do if you had that second chance? That's what Amanda has to decide and that was very intriguing to me. Plus I had never done a love story before and this story seemed very timeless to me. I guess you could say I am a bit of a romantic and I just fell in love with the story."

Nicholas Sparks says that, in a way, Amanda is the toughest role in the film and he admired how Michelle Monaghan interpreted, embraced and ultimately understood her.

'Michelle Monaghan is such a terrific actress and was exceptional with this complicated role. It is through Amanda that the audience will see its own life reflected. It is Amanda who has moved on from her teenage love affair and heartbreak, whereas Dawson really didn't. He never fell in love again but Amanda got married and had a family, followed society's rules – as most of us do. So when Dawson comes back into her life, she goes on a journey that involves her past feelings for him, her memories, her choices and what did they mean to her then and more importantly, what do they mean to her now? It's a very challenging role but it's within that role I think that the audience will really feel that this film captures real life. We were looking for an actress who could pull that off and Michelle Monaghan's done an amazing job."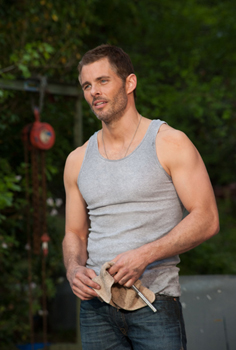 Next came the adult iteration of Dawson Cole, played by James Marsden, who walks back into Amanda's life and turns it upside down.

'We just felt that James Marsden and Michelle Monaghan would click and they really did. And James Marsden is such a great actor and again had not really done a romantic drama. He's so handsome and such a great masculine leading man and so talented in so many areas – singing, dancing – I think it's really fun to see him play this kind of part. What he brings is a real believable masculine leading man. I mean, he's from Oklahoma, he is very athletic and he's believable as a guy working in an oil rig. But he also has the sensitivity and the vulnerability to play a romantic lead," Denise Di Novi says.

Alison Greenspan agreed that James Marsden, like Michelle Monaghan, is the perfect embodiment of a Nicholas Sparks hero.

Of course, James Marsden has some first-hand knowledge of the world of Nicholas Sparks, having starred in 'The Notebook."

'I had the good fortune to be part of a Nicholas Sparks movie in the past which was a great experience. I responded to Dawson and his story and I've loved Michelle's work for a long time. She is one of those rare actresses with beauty AND depth. It's easy to sell the romance because you immediately fall in love with her. Plus she was fun to work with, we have a similar approach. She keeps it loose and fun, on and off camera. What the movie does – and what a thebestofme2.jpg movie does so well – is allow you to escape into the world of what if? We get caught up in our everyday lives and, like Amanda, can lose sight of your soul, your heart. His books and movies remind you of what it's like to feel for someone, to be hurt, to lose someone, all those essential human elements. He taps into that in such a beautiful, intelligent way that rings bells with his fans."

thebestofme2.jpg returns the compliment, calling James Marsden 'a terrific actor who just radiates an integrity on the screen. That, to me, is what brings Dawson's character to life."

The next task was to find the younger versions of Amanda and Dawson, roles that ultimately went to rising stars Liana Liberato and Luke Bracey. Denise Di Novi and Alison Greenspan had worked with both actors and knew that they were both extremely capable.

'Liana, it was clear that she had a very, very high level of ability and sophistication for her age, it's hard to believe she is only 18, she's such a talented and technically adept actor," says Denise Di Novi. 'I'm always thrilled to find great new young actresses to become new leading ladies, going back to Winona Ryder in -Heathers' or Mandy Moore in -A Walk to Remember,' among many others."

Denise Di Novi and Alison Greenspan had just worked with Liberato on their movie -If I Stay' and Di Novi considers Bracey to be '… a new and exciting leading man who has a natural style and appeal" The producers had a hunch Liberato would make a fantastic Amanda to Bracey's Dawson but were convinced after her first 'chemistry read" with Luke Bracey.

'We read six or seven guys with Liana during a casting/chemistry session and we asked Liana afterwards, -Who was the most fun to kiss?' And she said – blushing, I mean, huge red cheeks – Luke Bracey!

And I said, -That's obvious because you guys were as hot as a house on fire.' There was a definite thing with the two of them. I think he scared her a little bit in a way, like a guy who is a little bit rough around the edges from the wrong side of the tracks would be a little bit daunting – just like the movie. So we knew we found our two. They worked really, really hard with Michael Hoffman before filming started to get all the little mannerisms down and to really get to know the characters. So by the time we started shooting we were really excited by what we saw on screen. Liana was kind of like that young Audrey Hepburn, firecracker, dished it out in spades yet was coy, very feminine, flirty, don't tell me no headstrong kind of character and Luke plays a shy young man who doesn't really believe in himself until he sees himself through her eyes. Not to be corny, but they both bring out the best in each other and that was very obvious from their performances," Alison Greenspan says.

Liana Liberato admits that she borderline stalked Denise Di Novi and Alison Greenspan to play the part of Amanda. 'I had been looking for a romantic project for a while but I wanted it to be the right one. When I first received the script, I knew this was it and I just set my sights on it and didn't let go. I asked Denise Di Novi and Alison Greenspan about it CONSTANTLY. I knew it was going to be very special so I really pursued it. It has so much heart and everyone can relate to falling in love for the first time. But what's so great is that it also looks at love later in life and second chances at reviving a lost relationship. And the nature of fate, there's definitely a lot of fate in The Best of Me. That's what I love about Nicholas Sparks's work – there is so much hope and passion to it," Liberato explains.

Liana Liberato adds that Luke Bracey made it easy for her to fall into character with just a glance.

'I think Amanda is always intrigued by Dawson and she basically rigs a car so the battery fails and they can meet. Even though they are from two totally different worlds, she has a sense and of course they do fall in love. But it takes him a while. Dawson is really troubled and doesn't have anyone he trusts or someone to turn to until this girl comes into his life. Luke conveyed a lot of that with big wide eyes that were in some ways naïve, wanting to explore the world, this whole other side of Dawson that he couldn't actually articulate but said so much with just a look," Liberato says. This powerful bond between Dawson and Amanda – one that dissolves class barriers and spans decades – intrigued Luke Bracey.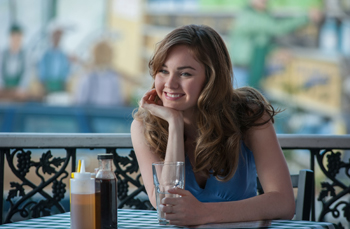 'Their relationship is so emotionally intense and the stakes are so high for them. I had never really played anything like that before and it's always fun to commit to something like that, to test yourself to find out how far you can go," Luke Bracey says.

He enjoyed the challenge of portraying Dawson's personal struggles to overcome a troubled childhood and his almost Hemingwayesque code of grace under pressure.

'He comes from a nefarious background to say the least but I think he is very different from his family. What scares him is when he finds that he actually may have more in common with them than he thought. Of course, ultimately, he rises above his circumstances – he is a noble and loveable guy with strong moral fiber. It's hard for him to accept the good in himself. He harbors a vast mistrust of people because of they way his family has treated him- as much as he has been surrounded by them, it's almost as if he lived alone in that environment, it's the only way he can get through it. He's tough and strong and has this inner rage because of his family but he's also very sensitive and compassionate and considerate – it's those kinder qualities, really, that lead him to pull away from Amanda in the first place. There are a lot of qualities I admire in Dawson and in portraying him, I hope I took away some of them in my own life."

Luke Bracey adds that he had an excellent partner in Liana Liberato and that many of her personal qualities informed her portrayal of Amanda. For Luke Bracey, a former Rugby player, it was like having the ultimate teammate.

'Liana Liberato is cute as a button and there's a real innocence and inner beauty to her. She's very bubbly and not a mean bone in her body and I think that really comes through in her performance. We were very fortunate to spend three weeks before production, not just rehearsing, but hanging out. Just having coffee and walking around the French Quarter, getting to know each other. I am so grateful for that because the scenes between us were so intense and full of consequence. To fully accomplish those sequences, we had to dive in completely to do that. You really need someone there to match you and meet you in that resolve. We were able to gain so much trust in terms of tackling this love story with the most sincerity and honesty. We really wanted to portray their experience so that people will root for them and want to be a part of it," Luke Bracey says.

Nicholas Sparks, who watched some of Liberato and Bracey's scenes unfold on set, believes that the young actors caught the spirit of the characters he created.

'There are a lot of things that make a love story successful and I think what drew me to Luke and Liana was their natural chemistry. Liana Liberato has this bouncy energy and you can see how he's drawn to her but at the same time you feel his quiet and inner strength. I really felt that and how they would be attracted to each other in those early scenes I saw between them," Nicholas Sparks says.

Luke Bracey and Liana Liberato genuinely became friends, Liana Liberato often playing the mischievous sprite to a bemused Luke Bracey. As Michael Hoffman points out, this affable relationship developed over time, due at first to Bracey's gentle encouragement of his young co-star. Their off screen rapport naturally informed their on-screen performances.

'Luke Bracey brought a lot to Dawson. He's got a quiet but powerful masculinity. He's a really physical actor but also smart, a good storyteller, a good writer, adept at improvisation and relentlessly hardworking. He is also very much about the other actors, he is very supportive and really took Liana Liberato under his wing. She was a little shy and tentative. She's always played the best friend, never the leading lady. He gave her the confidence to embrace that new role. She's just luminous and funny and lively and brought all that to Amanda."

The person who emerges as Amanda and Dawson's stoic guardian angel is Tuck, the owner of an auto repair garage with a penchant for fixing and restoring classic cars – or in the case of Dawson, a broken boy with the potential to be the human equivalent of a Shelby Cobra. His death, or, more accurately, his will, brings the estranged lovers together many years after their star-crossed high school days.

Veteran actor Gerald McRaney plays Tuck. Denise Di Novi had just worked with him on the upcoming romantic comedy 'Focus" and had a wonderful experience with him, but it was really his bravura performance on 'House of Cards" that caught the attention of all the filmmakers.

'Gerald has been one of my favorite actors for years, I always thought he was such a powerful talent and seeing him on -House of Cards' reminded me that he is really one of the greats," Denise Di Novi observes. 'When he agreed to play Tuck, we found out he was from Louisiana and of course is married to Delta Burke, so he understood Tuck's Southern roots and his long, great marriage to Clara, the love of his life. Like Tuck, he is an old-fashioned, stand up guy, committed to always doing the right thing and we needed someone like Mac who has the gravitas Tuck required. Tuck is one of my favorite characters in any of Nick's books. He is such a good solid person who is very principled and full of courage and backbone. And when he sees Dawson, this young man being abused by his family but a kid with so much potential, he takes him in and treats him as if he were his own son. And he becomes a father figure to Amanda too, especially when he sees how much she suffers as a result of Dawson being torn away from her and he remains that special person to them for the rest of their lives."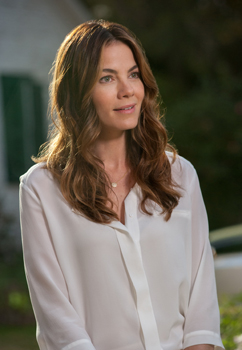 'House of Cards" also led to the casting of Frank, Amanda's distant and alcoholic husband, played by Sebastian Arcelus. While the character he plays on 'House of Cards" and Frank may seem like polar opposites, they share a common trait, namely that circumstances beyond their control ultimately dictate the paths they choose in life. To play Frank as a flesh and blood human, as opposed to a one-dimensional villain, required an actor well-versed in subtlety.

'I am obsessed with -House of Cards.' I made Michael Hoffman watch the entire series," Alison Greenspan recounts. 'I pitched Sebastian because Frank is a tough character. You have to know that he has a challenging personality and see why he and Amanda are not really meant for each other but you have to do so in a way that is three-dimensional and not stereotypical. He is such a fine actor on -House of Cards' that when Michael saw him and McRaney after he binge-watched, as we all do, he was like, -OK. We've found our Tuck and we've found our Frank.' And they are fantastic in the movie. Gerald McRaney has such a tough exterior and when this boy really breaks him down and touches his heart, it's so heartwarming but not at all mushy. Tuck is really a macho guy but you just love him. Gerald McRaney says he was drawn to the 'humanity" of the material, especially Tuck's relationship with Dawson.

'My acting teacher once told me that all great stories are basically about a man seeking sanctuary and in this case it is about a boy desperately needing refuge which he finds in Tuck's home and his care. Tuck also needs sanctuary of a different sort and he discovers it in Dawson. When Dawson comes into Tuck's life, Tuck has a family again and someone who fills a void left after his wife passed. He needs that boy as much as Dawson needs Tuck," Gerald McRaney says.

Of course, Amanda soon becomes part of Tuck's extended new family and McRaney, the venerated actor, played many of his scenes opposite the two neophyte thespians.

'Luke Bracey is such a fine talent, we talked quite a bit. He has a disarming natural quality – he's an athlete who stumbled upon this profession but he happens to be quite good at it. He put the same discipline into his work as he did as a rugby player. Liana reminds me so much of my own children when they were her age, you just want to hug her and tell her it is going to be all right. She has such an open vulnerable quality about her and yet a strength that is so evident. It was a great pleasure to work with both of those kids."

Liana Liberato confirms that Gerald McRaney became her mentor and rock during production.

'Gerald McRaney was so wonderful, the most insightful man. I was really stressed out over a scene, I couldn't get any of my lines right, take after take. He just leaned over and put his hand on mine and gave me a nod and it instantly calmed me. I was able to center myself and get back into it. He had such a warm and welcoming presence," she recalls.

While Tuck may be taciturn, it belies his warm and open heart and he is proactive in his care of Dawson and Amanda. In other words, he is the polar opposite of Frank, who is just emotionally checked out.

'Frank and Amanda have a fairly fractured relationship. It has become icy over the years after a family tragedy that each had a hard time recovering from. Frank has turned to self-medicating. He is a highly functional alcoholic and it has taken a toll on their marriage. Frank has a way of not really being present and certainly not attentive to her needs. On paper they should be a great family – successful in the community, Frank is a gregarious, good businessman who seems to be the life of the party but behind closed doors, it's something else and taken quite a toll. I don't think he is an asshole, I think what happens to Frank and Amanda is probably all too common. That's sort of what I love about this relationship, it's very human. So when Dawson comes back into the picture and Frank is really more concerned with his own self interest whereas she is trying to live out her most authentic self, Frank and Amanda certainly have to come to grips with the reality of where they're at in life and, and choices need to be made," Arcelus says.

Frank and Amanda's tenuous but longterm marriage was a key dynamic in the complicated and delicate rekindled romance between Amanda and Dawson. The intricate, intimate interplay between the two couples was an ongoing conversation between Micheal Hoffman, Denise Di Novi and Alison Greenspan. 'It was tricky because you had to have Amanda in a marriage that couldn't be completely horrible because there had to be an obstacle in her getting back together with Dawson. That was something we massaged a lot – Frank couldn't be SO bad that you felt, oh, Amanda is such a victim, why is she hanging around? At the same time you had to understand that the relationship was over. Denise Di Novi and Alison Greenspan were very smart and helpful in navigating this, especially in offering female perspective. They would always say something like, as a woman, I feel THIS. That was incredibly helpful and a great collaboration," Micheal Hoffman says.

Bringing The Best Of Me From Page To Screen

To translate Nicholas Sparks's novel cinematically, Hoffman chose to focus on the love story of Amanda and Dawson and to put more weight on their younger iterations than the book does. He consulted with Nicholas Sparks throughout but relied particularly on Di Novi and Greenspan in crafting the movie. In the process, the Nicholas Sparks book became a Michael Hoffman movie.

'I think Nicholas Sparks's theory is that the filmmakers who adapt his books are invariably going to do things that are slightly different but he was very, very supportive throughout. I called him a couple times and he was always very helpful. Denise and Alison have done a lot of these movies and are very smart about what makes a Nick Sparks movie work. Denise in particular has tremendous instincts in terms of character and we had a lot of feelings and experience about marriage and the end of marriage. We talked a lot about that which ended up influencing the Frank/Amanda relationship, for instance. And Amanda and Dawson and how they were navigating their relationship when she was still married. I think Denise and I brought a lot of ourselves to the piece. Both our disappointments about love and romance but also what love can be and what it can become. So it ended up becoming a much more personal film for me than I initially imagined," Michael Hoffman reflects.

Michael Hoffman worked particularly closely with the four versions of Amanda and Dawson prior to principal photography, to flesh out the physical and emotional traits and nuances that each generation would share and explore. 'One of my big anxieties of the movie was how to take two characters and cast four different actors to play them, two at age 18 and two at age 40, and make it believable that they are the same people. At one point we talked a lot about gestures and behavior and in the end we let quite a bit of that go and allowed the story and the acting to do the convincing. And they do. Like, MichelleMonaghan and Liana do look a lot alike but James Marsden and Luke are less physically similar. But James found this slightly self-effacing behavior that Luke really embraced and that really persuades you in an authentic way that they are the same person."

It was this emphasis on authenticity that appealed to Michelle Monaghan who noted 'Our director, the beloved Michael Hoffman who I adore, was so invested in the material and such a talented filmmaker. It can be difficult to translate a novel into a film that is relatable and he was all about grounding it in moments that were real. He did such a beautiful job and was so actor friendly and available to all of us.".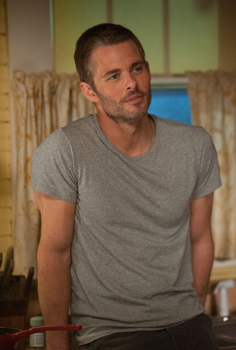 Michelle Monaghan and Liana Liberato did find a small physical quirk of Amanda's that they kept as a point of reference.

'Liana Liberato and I sat down for coffee one day and really spoke about who the character was and certain habits she might have that would read all the way through. Liana Liberato came up with this nervous thing she does of touching her necklace and used that," Michelle Monaghan says.

Even so, toying with that necklace was not an artifice but rather happened organically, after Liana Liberato noticed herself doing it whenever Amanda found herself in a stressful situation.

'As soon as I figured that out, I texted Michelle Monaghan and she started using that when she played Amanda. It was like passing something important over to her and she handled it with such grace, it was incredible to watch her incorporate everything James Marsden adds that for the most part, simply hanging out with Luke Bracey, getting to know him before cameras rolled, really helped both of them create Dawson.

'Luke Bracey is a great guy and we got together a few times before we started shooting to work on the dialect and the mannerisms but mostly to make sure we were on the same page, as far as where the guy comes from. We didn't want to get too bogged down by the minutiae, like, I'm always going to pick up the pencil with my left hand and scratch my head with my right hand. We were more interested in the overall. Luke has this great deep voice and we placed our voices in the same register but it was more about the mentality of the character – what he would do in this or that situation. We both agree that he is a kid of good values regardless of where he comes from – and how he applies that inner decency was key. It was great to sit with Luke Bracey and Michael Hoffman and talk about that – sometimes those are the best rehearsals." Indeed, some of the best moments were not necessarily on the page but rather inspired by the material and the alchemy between the director and his actors.

'Certain things you discover on your feet. There was an important scene between James Marsden and Michelle Monaghan where she finally tells Dawson why she is so angry with him. We had trouble finding it in the writing and we were close to the day we needed to shoot the scene. So we went to rehearse after a shooting day. They dropped us at Tuck's cottage – there were supposed to be lights out there but there wasn't. So it was pitch black. We talked through the scene and blocked it in complete darkness and when we actually shot it, it worked incredibly well," Michael Hoffman says.

Setting The Scene: The World Of The Best Of Me

Tuck's cottage is an important touchstone for Amanda and Dawson, a safe place where their romance blossoms and later, renews. It, along with Tuck's house, is the middle ground between the Coles and the Colliers where Amanda and Dawson begin to define who they are as individuals and as a couple independent of their families.

'Tuck's house is all about integrity, simplicity, honor, masculinity, all in a very positive way. His place in the country is a garden, literally, with lots of space where their love can grow," Michael Hoffman says. Tuck's cottage is also the last vestige of his relationship with the love of his life, his wife Clara. Her essence is especially felt in the overgrown garden, particularly in the camellia flower that comes to represent Amanda and Dawson's great love affair. The garden, which becomes their shared undertaking, is a huge part of their relationship, as a young people and also later, as the estranged lovers find their way back to each other after all those years apart. Fortunately, the filmmakers found the perfect location that they could build to their specifications from the ground up. The Best of Me shot on locations outside of New Orleans and, paradoxically, the still terrible, lingering consequences of Hurricane Katrina became a boon for the production.

'We always thought that Tuck's garden should be isolated, it should be a haven away from the madness of home, that it should have a feminine touch because it's where Tuck and Clara went, that her handprint would be all over it in terms of the décor and the garden and the little touches and it would have a real feminine energy and be a symbol of love. So when we were scouting, that was a tall order – except that we found this house that survived Katrina but was very water damaged but in all other ways, it was perfect. We have a lake? Check. We have a dock? Check. Sumptuous grounds where we can plant a garden? Check. Beautiful trees? Check. But it was falling apart. So we had to redo all the floorboards, paint the walls that were peeling with mold and redo the fireplace and make it look warm and homey. That was a major overhaul," says producer Alison Greenspan.

Fortunately, that major overhaul was entrusted to the legendary production designer Patrizia von Brandenstein. The Best of Me marks her fourth film with Hoffman, who is effusive of her work. 'Patrizia von Brandenstein is a genius. She is exceptionally good at using detail to create really believable spaces, where you feel the character. You truly feel Tuck's life in that house. You feel his dead wife. Patrizia von Brandenstein is a true artist. She's very clever about using something like a drape, knowing how the light's going to hit it. How it's going to come through, how it's going to read a kind of sadness in the room."

Capturing the aesthetic of a love story that spans decades appealed to von Brandenstein as did the bayou location. For her, the two aspects were intrinsically linked.

'The opportunity to tell a dual story with a huge time span is always a challenge but interesting. I love Louisiana and its topography, this was my third project there, and I felt that the story connected to the landscape in a very powerful way. We used themes of nature representing the roots of love, which are incredibly tough and painstaking to dig away. You couldn't uproot an oak with a little spoon, could you? We're surrounded, most of the time, in our story, by enormous trees and vegetation and water that moves slowly, over time. It's interesting because the landscape has undergone a certain amount of change maybe over a hundred years, but not a lot. So we used that thematically," she says.

Patrizia Von Brandenstein's team wove the physical structures into the natural world to underscore their timeless and organic connection, not unlike the Amanda/Dawson relationship 'The complexity of the land and the buildings were intertwined and incorporated into the story. I relished the great love between Tuck and his dead wife Clara being passed down to a younger couple who in turn become the older couple who lose each other, find each other, and the big wheel of life goes on. Tuck's cottage is emblematic of that. I particularly enjoyed the idea of the setting of this very special place in the swamp. I loved the idea of a separateness that this little mechanic and his wife, who'd been married for God-knows-how-long before her death, but they were able to create a personal kind of paradise; not someone else's or someone else's idea, but their own idea of paradise that nourished them and sustained them. Amanda and Dawson use that same space to strengthen their love and to endure the separation. They have found their bliss there, too. I wanted to feel the age and the passage of time and the enduring qualities of that place. It is an idyllic setting and suited us perfectly,"

Patrizia Von Brandenstein confirms that 'The place was absolutely derelict when we found it. It was a fur trader's home in the 18th century and had a lot of its own history. We transformed a truly dilapidated place into our own lovers' paradise."

Patrizia Von Brandenstein tried to use the natural world, particularly the grand trees blanketed with Spanish moss, as much as possible, and the red camellia flower which became a particularly important symbol for the lovers.

Another notable location was the Collier House, set in a real plantation, one of six surviving Greek Revival estates in Terrebone Parish. With its broad lawn, sprawling porch, stately staircase, high ceilings and windows, flanked by graceful trees festooned with Spanish moss, it certainly conveyed the money and stature of Amanda's family, a stark contrast to Dawson's humble, hardscrabble beginnings. It represented a real Louisiana experience in more ways than the obvious – on one hot day, a local resident decided to visit the production – a sixteen foot alligator slithered around the backyard, bringing his lunch – a wild boar dangling from his mouth. The Collier house also became the site of a meaningful kiss between the two young lovers, the romantic scene made even more epic because Hoffman shot it at night on a roof as a severe Louisiana thunderstorm roared into town. Cinematographer Oliver Stapleton photographed these events in widescreen, opting for an anamorphic look using the digital Alexa camera. He and Hoffman also eschewed the hand-held look, opting for more classically framed and paced shots 'Oliver is a great collaborator, fantastic in his relationship with the crew and the actors. He's sensitive to story, which is really important to me. Everyday, we'd ask, what's the shot that expresses what this movie is about: We are really hard on ourselves to try to find something that doesn't just illustrate the dialogue but composes an image that expresses the narrative value of that moment in the movie," Michael Hoffman says.

The Best of Me marks their fifth movie together; their first was in 1984. As such, Stapleton, an affable Brit with a wry sense of humor, notes . 'There is a lot of shorthand and flexibility. We've mellowed into a well-oiled machine, albeit one with a few backfires."

Stapleton points out that the use of anamorphic, with its shallow depth of field, broad canvas greater separation of background and foreground, its unique play of light and flare, was not a mere gimmick but rather to lend the film a naturalistic look, an especially critical component to the typically super-crisp digital cinematography.

'The point of shooting anamorphic – especially in digital – is to create an image that more naturally mimics the behavior of the human eye with its center focus and then gentle roll of in definition all the way to the edges," he explains.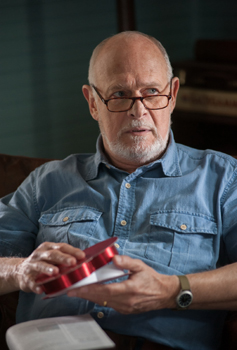 He adds that the current 'obsession" with hand-held photography is an outgrowth of non-anamorphic digital shooting which creates an incredibly steady total picture – the roving, moving camera, he believes, is a reaction this static look, an artificial attempt to add 'liveliness" to the frame. 'Neither Michael nor I are fond of hand-held, except when used in a very controlled way. Good cinematography is about telling the story in a precise way that allows the actors performance to be -seen.' Careful use of camera placement, lens choice and lighting is what allows the performance to reach the audience and that was our main goal

After principal photography ended and Hoffman was in the midst of editing the movie, another group of likeminded souls joined the team – Charles Kelley, Hillary Scott and Dave Haywood, better known as the influential, harmony-based, award-winning country band Lady Antebellum. The trio, attracted to the movies themes of timeless love and second chances, contributed I Did With You to the movie.

Tied tightly to the themes of the film, I Did With You is the perfect capstone to the production of The Best of Me. For Hillary Scott of Lady Antebellum, the song and the film together are about ' how whenever you find the person you're supposed to be with, your soul mate, there are parts of them that you wish you could have as well and it's the two of you together you bring out the best in one another."

The Best Of Me
Release Date: 30th of October, 2014