When British actress Emma Thompson arrives for our interview she doesn't look anything like her frumpy character in Stranger than Fiction. The bad hair is gone, as are the ill fitting clothes, and theneurotic, chain smoking author Kay Eiffel (who Emma Thompson plays) is no where to be seen. Instead, in her place is a very blond, very tanned and very fab looking 47-year-old. The two time Oscar winner might have complained about her body weight and her varicose veins (which she had removed) in the past, but she looked stunning at the Toronto International Film Festival in a sexy figure hugging leopard print cocktail dress and a pair of Jimmy Choo's.
Gaynor Flynn sat down with the actress to discuss her latest film, in which she plays a cranky author with writer's block who is trying to figure out how to kill off her latest protagonist, an IRS auditor called Harold Crick (Will Ferrell). The only problem is that Harold actually exists. When Harold begins to hear the author's voice in his head narrating his thoughts he becomes worried. When she predicts his imminent death the mild mannered tax man desperately tries to do something about it.
Gaynor Flynn
: What made you say yes to this role?
Emma Thompson
: Oh so many things, but working withDustin (Hoffman) was a huge plus. He's so funny. Heshould have done stand up, and his character in thisfilm has an incredible sweetness he's a reallyincredible, marvellous man, we use to have these sortof six hour conversations when we were shooting, andwe'd sit over an expensive bottle of Saki and getquietly pissed and just talk and talk and talk he canjust do that. Its true what I said in the pressconference, he really needs to disguise himselfbecause people stop him in the street and they reallykind of glom to him. It's not just I really enjoy yourwork Mr Hoffman it's like will you come and bear mychildren or be with my family on this very special dayand you just want to go 'leave him alone' I get veryirritable. I'd say 'he's working very hard you knowat the moment' he's a mess, he needs something to eat'and I said Dustin I can't walk around with you anymoreI'm turning into a child minder, which he does needbecause he can't make his way back from anywhere toanywhere, he has no sense of direction at all. He gotlost going around the corner to my hotel and then hadto ring up someone and say 'I don't know where I am'you know and he's the only man I've ever known wholikes shopping. It's extraordinary.
Gaynor Flynn
: So people don't glom to you?
Emma Thompson
: No, they're very respectful. I thinkthey're frightened of me actually (laughs) you knowwhat happened I went out the other day desperatelytrying to look like a film star I had an enormous pairof sunglasses on great big diamond necklace and thenthese reporters said, oh look I think its Emma Sands. Emma Sands, do you know who that is? Dynasty Ithought ooh, it's hysterical, they were talking aboutme.
Gaynor Flynn
: You play the voice in Will Ferrell'shead, is getting the tone right on narrationdifficult?
Emma Thompson
: We did work on it a lot and I did thenarration over many, many times because the first timeI did it we did it before we started shooting becauseof course we had no idea how the things were going toplay so I think that first narration was a bit uppityand a bit la la so we changed it an awful lot when webegan shooting and we had to discuss the complexity ofwhat she knows while she's narrating and whether she'snarrating during the film at all or whether its oldnarration and you can't get into all that because itsso complicated. So the work on tone occurred over along period of time before we started shooting, duringthe shoot and then after the shoot, I did the wholenarration at least 3 or 4 times and that was the onlyway we could get it to work and in the end thenarration is so moving that I would cry every singletime I did it and I had to do it not crying becauseits just beautiful, the way she says all these thingswe think accessorise our lives and they are there infact to save us.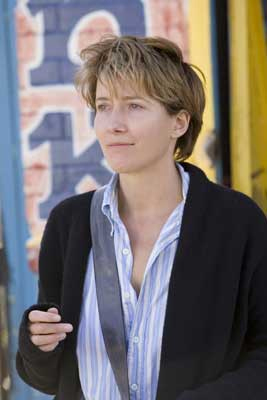 Gaynor Flynn
: Your character only meets Will Ferrelltowards the end of the film, was that the same for youin real life?
Emma Thompson
: No, we'd been farting around like theold sort of whores of comedy that we are for hoursbefore that but that scene is so powerfully writtenand so well written that we didn't need to rehearseit. The idea of someone coming towards you who youhave imagined in your head is so extraordinary that itacted itself. Her reaction, the fact that she justgoes down onto her knees is not a normal reaction, itcouldn't be because to her he's not real and yetsuddenly he's real so it's the same sort of wonder andawe and of course she's thrilled actually but alsofrightened and in awe. It's an incredible moment I'venever had to act anything like that before.
Gaynor Flynn
: You're a writer as well, do you like tosee your characters come to life, unlike Kay?
Emma Thompson
: I love it that's why I writescreenplays. I love the fact that I know one day I'llmeet the people [who will play them]. Now novelistslive in a much more private world I think. It's notsomething they would want I don't think, the novelistsI know anyway certainly wouldn't. They're notgregarious, they're not outgoing so people write fordifferent reasons and they work stuff through in theirwriting, I certainly do that
Gaynor Flynn
: Do you suffer as a writer like yourcharacter does in the film?
Emma Thompson
: Sometimes I do, and there have beenreally, horrible, horrible moments when you findyourself curled up in a foetus position weeping underthe desk, you know thinking I can't do this. You justthink you're not going to be able to get it out youknow like child birth there comes a point in childbirth when you say, okay jokes over, get it out, getwhatever it is out I can't do this. Its very bizarre.I remember that moment so clearly, just don't beridiculous I can't do this, I can't get a whole babyout of there and it's the same thing with your mind,you just go its not there I can't a do it and funnilyenough I think that's the moment when sometimes youhave your big breakthroughs its very odd.
Gaynor Flynn
: There's a great scene where you're inthe rain, smoking, suffering, trying to work out whatis going to happen next in your novel. Was that adifficult scene to do?
Emma Thompson
: It was, but I trusted Marc Foster [thedirector] because I think he's a good filmmaker. He'sa young filmmaker but he's a filmmaker and there's abig difference between a director and a filmmaker.There are thousands of directors and very fewfilmmakers. I've worked with Ang Lee luckily who wasa filmmaker and I think Marc has that so you don'tquestion it, you really don't unless you have a bigproblem with it. So I sat there, I was so cold, Ican't tell you how cold I was and I was so proud ofkeeping that cigarette going. She could smoke in ashower that woman and I loved that scene. [Marc's]very subtle and he knows what's what. He's like one ofthose Chinese surgeons who just puts his handsstraight into your body without cutting he can go inand just go, can you just move your kidneys slightlyto the left and you do it.
Gaynor Flynn
: I understand that Will Ferrell is veryshy and introverted?
Emma Thompson
: He is shy, but he's also so goodhearted and nice, and open hearted and we just did geton and we did have a lot to talk about because we'reboth comedians so we'd just wiff on people we'd met orsome ridiculous thing and I think he's a very subtleman. I know the stuff he does is so broad sometimesbut he's a bit like Christopher Guest you know. Thosepeople that he gets periodic version of human beingsbut so close, like Anchorman you know there weremoments in that which were just oh, they were soterrible and yet so accurate so its not reallysurprising that he can pull it back and be real. Ithink he's wonderful in this. I had no idea he was sogood.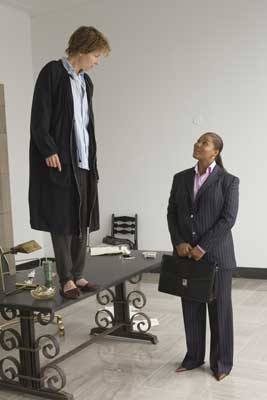 Gaynor Flynn
: Did you jump at the opportunity to playthis woman?
Emma Thompson
: I did because she's not intentionallyfunny but she's funny and I love her and she's soawful and she's rude and suicidal and funny and Ithink that's a very unusual combination especially forwomen. You know I was asked whether I get cross aboutAmerica and there not being any roles for women my ageand all of that and then something like this comesalong but it's very rare that you get something sooriginal. Always now I get asked to play motherswhich is fine if it is a very brilliantly writtenmother that's no problem but that's the point you knowto get out of the formulaic stuff to be not virgin,angel, whore, mother, sister, wife you know suddenlyto come along and be given a suicidal very rude writeris heavenly.
Gaynor Flynn
: As a screenwriter, is it important toyou to create interesting roles for women then?
Emma Thompson
: Oh definitely and I try to write themwith real depth but I'm writing about parents at themoment and there's a mother but she's a completelyoriginal person, a fully developed human being withstrange habits and peculiarities as everybody has. Ifind mothers are so often portrayed as just sort ofsingular, like they're only mothers. What mother isonly a mother? Doesn't exist. But we've made it likethat in our stories.
Gaynor Flynn
: Will you be acting in your story?
Emma Thompson
: No because I'm committed to NannyMcPhee I can't do both that would be bad.
Gaynor Flynn
: Did you know this role was written foryou when you were given it?
Emma Thompson
: No I didn't, Lindsay [Doran theproducer] was really discreet she just sent me thescript and said see what you think of it and I readthe first two pages and said 'I'll do it' because Ijust wanted to be in the service of that writingbecause that never happens. Because people will writethings for you and you think ooh I'm so excited andyou read it and think oh this is terrible and I've hadthat happen before well you either think that or itsjust very bad writing or boring writing and they justwant you to act it but it was like it had been writtenfor me because the way in which she speaks has myinflections and my strange sort of arcane ways ofspeaking that I sometimes have.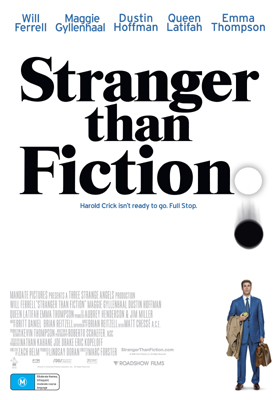 Gaynor Flynn
: So whenever anybody says they wrotesomething for you, now you become incredibly wary?
Emma Thompson
: Oh yeah you do, well you know what Ihave to be wary of? I have to not ever say to someonethat I'm writing something for them because I've donethat before and then the studio says no but we don'twant that person and I've had to ring up that personand say I'm so sorry and I feel like such a cow sothat's what you have to watch out for.
More Interviews on
Emma Thompson
More Interviews on
Stranger Than Fiction